SIXT services in Croatia
Rent a car in Croatia with SIXT to be sure you'll travel the country in comfort and style. Our fleet's vehicles come from top manufacturers such as BMW, Audi, Mercedes-Benz, and more. In addition, you can upgrade your car rental in Croatia with bookable extras such as GPS, child seats or an additional driver. Whether you're looking for a weekend rental or a long-term rental, we've got you covered during your trip to Croatia.
Good to know when you're visiting Croatia
Car rental under 25 in Croatia: The minimum age for a SIXT rental in Croatia is 18, although some car categories require drivers to be 25. A young driver surcharge applies to those under 22 years old.
Documents you need to rent a car in Croatia: You need a valid driver's license plus an ID or passport. Renters with a license using a non-Roman alphabet like Arabic or Japanese will also need an international driving permit.
One-way car rental in Croatia: It is possible to book one-way rentals between SIXT stations in Croatia, depending on the vehicle tariff. An additional fee may apply.
Cross-border travel: You can take your SIXT rental from Croatia to many European countries upon request. An additional fee will be charged for taking your rental to other countries.
Accepted payment methods: We accept all credit cards from internationally recognized companies. Debit and prepaid cards, as well as cash, are not accepted as payment.
Flexible rental options: If your plans are uncertain during your visit to Croatia, don't worry. Choose to pay later when booking and cancel your reservation free of charge.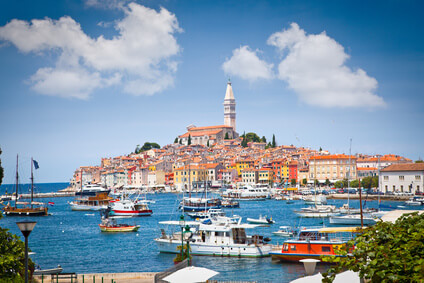 Best places to visit in Croatia
Split: This bustling metropolis is one of the most popular destinations in the country. Known for both its history and its nightlife, there's something for everyone in Split. Be sure not to miss Diocletian's Palace and St. Dominus Church. The historic old town of Split is an attraction in and of itself, as it used to be part of the Roman emperor's palace.
Dubrovnik: This charming coastal city has become even more popular recently, as it is the site of many filming locations for the popular TV series Game of Thrones. Wander through the historic old town, visit the city's walls, and kayak through the crystal-clear waters surrounding the city.
Zagreb: Croatia's capital has much to offer visitors. With an eclectic mix of attractions, you'll want to check out the Museum of Broken Relationships, St. Mark's Church, and the Cathedral of Zagreb. If you're looking to explore nature, check out Medvednica.
Summer 2021 in Croatia
Croatia is a summer hotspot. With temperatures reaching almost 90 degrees in some places, you'll want to head to the coast to cool off on the beach. The beaches in both Split and Dubrovnik are perfect for your summer vacation. You may also want to escape into nature for a bit by visiting Krka National Park or the Plitvice Lakes. With a SIXT car rental, going between all these remote locations will be quick and easy.
Winter 2021 in Croatia
Croatia's winters are mild, with temperatures rarely reaching freezing or below. Check out major cities like Split, Dubrovnik and Zagreb to experience some of the best Christmas markets in Europe. Dubrovnik is also famous for its Winter Festival that occurs around New Year's, so be sure to check it out if you're in the area. Croatia also offers many ski resorts for those looking to engage in winter sports. You may even want to hit the beach without crowds during winter, as it rarely gets too cold to sit outside.