SIXT Services in Egypt
Our options for a car rental in Egypt make exploring this beautiful country easy. Whether you're traveling for business or for leisure, we have a car type for you. Choose from our wide range of compact cars, sedans, SUVs, and minivans. Once you've chosen a car category, you can also upgrade your rental with bookable add-ons such as GPS, child seats, an additional driver, and even our driver service. Whether you need a long-term rental or just a weekend rental, we've got you covered.
Good to Know when you're visiting Egypt
Car rental under 25 in Egypt: The minimum age to book with SIXT in Egypt is 20, with a license held for at least 1 year. Some car categories have a higher minimum rental age, and drivers under 26 must pay an underage driver fee.
Documents you need to rent a car in Egypt: You must have a driver's license held for at least 1 year, a passport, and an international driving permit for a SIXT rental in Egypt.
Accepted payment methods: We accept all major credit cards for rentals in Egypt. Cash payment is accepted along with a credit card for the security deposit. Prepaid cards and debit cards are not accepted.
One-way car rental in Egypt: One-way rentals between SIXT stations in Egypt are allowed, depending on the tariff. Prior approval is required, and an additional fee may apply.
Flexible rental options: If your travel plans in Egypt are uncertain, don't worry. We offer the "Pay Later" option when booking, so you can cancel your reservation free of charge.
SIXT driver service: If you are uncertain about driving in Egypt, we have your back. Book our driver service as an extra and have someone drive you to your destinations for up to 8 consecutive hours per day within business hours.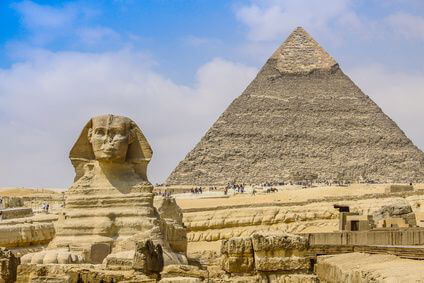 Best Places to Visit in Egypt
Cairo: The capital of Egypt sits right on the bank of the Nile River. The city itself has tons to offer, including the Egyptian Museum and the Cairo Tower. It also serves as a base to visit the Pyramids of Giza and the Great Sphinx.
Alexandria: With its beautiful beaches and incredible history, this Mediterranean port city is worth a visit. For those interested in ancient artifacts, visit the Citadel of Qaitbay and the Catacombs of Kom el Shoqafa.
Hurghada: This city is located on the coast of the Red Sea. Famous for its beach resorts and incredible scuba diving, this destination is perfect for outdoor and marine enthusiasts. You can also visit El Dahar Square with its famous produce market for a taste of authentic local food.
Summer 2021 in Egypt
Summer temperatures in Egypt, especially on the coast, can get hot. Visit coastal cities like Alexandria and Hurghada to cool off at the beautiful beaches. You can also enjoy scuba diving or snorkeling near the coral reefs of the Red Sea. You may also want to consider a cruise down the Nile River, a unique way to experience the country. To keep yourself cool in Egypt, be sure to drink some Asab Al Sokar, a refreshing local drink made from sugarcane.
Winter 2021 in Egypt
Winter temperatures in Egypt are a bit milder but still balmy. If you're not looking to hit the beach this winter, you may want to consider visiting the museums in Cairo or hiking up Mount Sinai. The Pyramids of Giza are also a must-see during winter. Our car rental in Egypt services will get you around to all the winter attractions you want to see. In some parts of the country, nighttime temperatures can get a bit chilly, so plan most of your outdoor activities for the daytime.