Sixt car rental at Hamburg Airport, Germany
Car rental at Hamburg Airport is designed to make getting around easier for visitors. In order to effortlessly move around in the different regions of Germany, it is recommended to rent a car. Sixt car rental offers great prices on car rental in Hamburg. There is a large variety of vehicles to choose from if you need to rent a car, including convertibles, minivan, sports cars and SUVs. Cheap car rental offers from Sixt make traveling in Hamburg an absolute pleasure.
Rent a car at Hamburg Airport
Hamburg has what is considered to be the oldest operational airport in the world. It continues to be a transport hub in Germany, frequently receiving international flights. The Sixt car rental services can be easily accessed from Hamburg airport, enabling visitors to not miss out on the great service and savings provided by the company. Hire the ideal car with convenience and save yourself unnecessary time and effort that you can use on your trip.
Things to do in Hamburg when you rent a car
Hamburg is an intriguing destination and has lots to offer eager tourists. When you get your car rental, make sure you pay a visit to the baroque church, called Church St. Michaelis. The emigration museum Ballinstadt also offers a presentation of Hamburg's rich history. If hunger strikes, head over to the Hamburg fish market and enjoy some exotic seafood, fruit, nuts and tea. You will need a city car to get to these great locations, and after doing a quick price comparison on car rental with Sixt, you will be sure to find a cheap car for hire.
Sixt SmartStart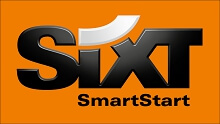 Sixt SmartStart puts you on the fast track to your rental car. Our new service allows you to skip the counter and rent directly from the parking area. Without a stop at the counter, proceed directly to the parking area P5 after your arrival at Hamburg Airport. Our service employee will welcome you in the Sixt SmartStart area on Level 1.
Conditions:
Pick-up must be at Hamburg Airport from Monday to Friday between 7:30h and 16:00h
Valid on the vehicle categories Premium Compact (e.g. Audi A3) and from Intermediate (e.g. Peugeot 508) through Premium (e.g. Mercedes-Benz GLK)
Online Check-In must be completed in advance
Payment by credit card
For further information please visit our Sixt SmartStart website.