Car Rental with Sixt in Mannheim, Germany
Our Service | Traffic Information | Sixt Tips | Sightseeing Destinations | Business Travel | FAQs
Available at our Mannheim branches is a wide selection of vehicles available for all traveling purposes. Whether wanting a luxury car rental from brands such as Porsche and BMW, or are looking for a more budget-friendly rental vehicle, we can accommodate. Find out exactly where our Mannheim rental locations are by clicking on the second tab of our branch menu. A scroll through our drop down list provides useful information the opening times, addresses and vehicles on offer at each branch. We have convenient pick up options like the Mannheim Airport and Mannheim Central Train Station.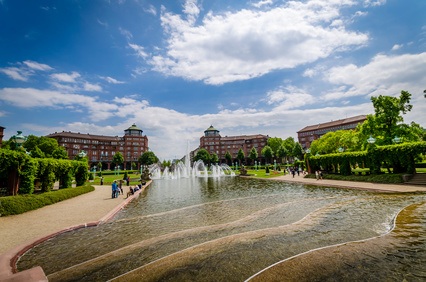 No matter your mobility needs our extensive fleet can cater to your budget and plans. For weekend getaways make a price comparison and see how you could try out a sleek Maserati or other sports car for less than you think. We also provide a range of rental cars that are perfect for business trips, family vacations and group outings. Our choice of diverse compact city cars, comfortable sedans and minivans to large passenger vehicles and SUVs make it easy to find a model to match your trip.
Once you choose your rent a car, book ahead online or over the phone. While you make your reservation you can select from our useful extras to enhance and customize your car rental experience. We offer various add-ons at great prices to help you have an optimal ride like additional driver coverage or even a tow hitch.
Some of our available extras:
GPS
Insurance protections like Loss Damage Waiver
Winter protection such as snow chains and winter tires
Ski and bike racks for outdoor adventures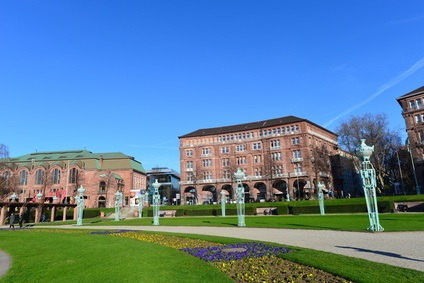 If flying into Mannheim you will land at the regional airport, which is very close to the city center. Because of its manageable size and central location driving around Mannheim is relatively stress-free. Located in Southwestern Germany in the region of Baden-Württemberg, you can easily access many of the top German cities from Mannheim such as Frankfurt, Stuttgart, and Nuremberg. Germany is known for their high-quality motorways and also for taking safety seriously, so don't forget to buckle up! If you are traveling to Mannheim by train you will arrive at the Hauptbahnhof, or main railway station. Here you can conveniently collect your rental car directly on-site. The redeveloped and modern station has connections arriving from all over Germany, as well as lines running from Switzerland and Paris if traveling from another country in Europe.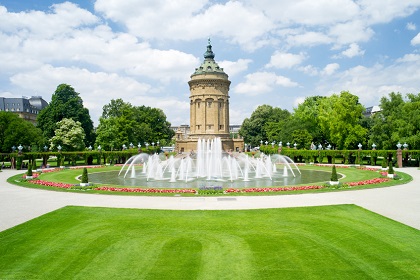 Mannheim's city center, set in the Quadratestadt, is laid out like a grid and has no official street names. Rather, blocks have names like Q3 and Q2. Originally built to surround the city's fortress in 1606, the city is located directly along the Rhine and Neckar rivers. Once famous for its beauty and industrial significance, Mannheim was unfortunately largely decimated during World War II. As a result, Mannheim today is now a mix of old and new. For those who are interested in architecture, Mannheim, like many German cities, is a mixture of industrial landscapes and historical charms that tells the history of both past and present.
Upon arriving in Mannheim, there is plenty to do as soon as you pick up your vehicle. The centrally located Luisenpark is a great place for a stroll or a scenic gondola ride. The fully landscaped park is lined with sculptures from various artists and includes an exquisite butterfly house. In addition to Mannheim's natural attractions, a visit to the Mannheim Schloss, a Baroque palace is also recommended. Constructed in 1720, the structure runs an impressive 450 meters along the central area all the way to the city's main square, Paradeplatz.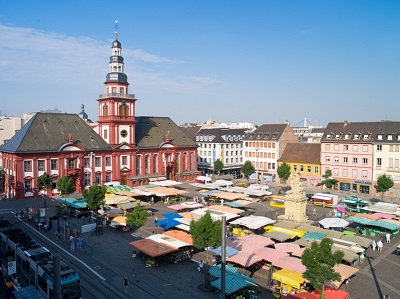 Sightseeing Destinations back to top
Mannheim's royal status, established in the 17th century, attracted many famous writers and authors such as Mozart to Goethe. In the 18th century, the city was known for having one of the best European orchestras, thanks to the Mannheim School of classical composers. This mixture of arts and culture has left a lasting impression on the city which can be experienced at the popular Alte Feuerwache. The venue offers live jazz and contemporary performances that can be enjoyed in its lively beer garden and cafe. For classical music lovers, a visit Rosengarten is not to be missed.
Distance to Mannheim Baroque Palace
From Mannheim Airport: 4 miles, about 14 minutes
From Mannheim Central Train station: 1 mile, about 4 minutes
Distance to Luisenpark
From Mannheim Airport: 2 miles, about 6 minutes
From Mannheim Central Train station: 2 mile, about 9 minutes
In addition to a thriving music and arts scene, Mannheim was also named one of the top 15 most inventive cities in the world by Forbes Magazine. We can thank Karl Drais for the modern bicycle, which was originally powered by the user's feet when he invented the "Laufmaschine" in Mannheim in 1817. Many of these amazing creations can be seen today at the Technomuseum.
Distance to the Technomusem
From Mannheim Airport: 2 miles, about 7 minutes
From Mannheim Central Train station: 2 miles, about 8 minutes
When on business rent a car in Mannheim and have an affordable and convenient way to get around. Arrive on time and relaxed to important meetings or to functions and be able to set your own schedule. Plus a rental car not only gets you from A to B, but also facilitates seeing a few sights along the way. In addition to local attractions the Mannheim Airport and central train station are also close to local and regional business centers, like SQUAIR in Frankfurt.
MBC Mobile Business Center
From Mannheim Airport: 2 miles, about 6 minutes
From Mannheim Central Train station: 3 miles, about 10 minutes
SQUAIR Frankfurt am Main
From Mannheim Airport: miles, about 6 minutes
From Mannheim Central Train station: 48 miles, about 50 minutes