Sixt Rent a Car in Rome
Our Service | Traffic Information | Sixt Tips | Sightseeing Destinations | Business Travel | FAQs
Our affordable fleet of rental vehicles can be accessed through seven different pick up points both within the city and at each major transportation hub. Transfer from sky to street faster at our Rome Fiumicino and Ciampino airport locations, or keep on cruising with a quick jump over from the Rome Termini train station. Many of our branch locations come with a 24 hour return facility to help you make the most of your time in the Eternal City. For exact operating hours and locations pertaining to each branch, check the drop-down menu. We work hard to meet your rental vehicle needs and can guarantee you a vehicle from your desired category, although cannot reserve specific models.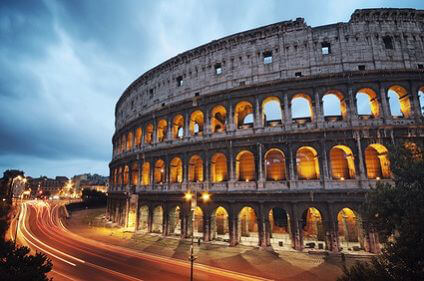 With our car rental in Rome we also offer many additional amenities to accommodate your driving style and needs. If you're visiting Italy in the cold season, winter equipment like snow chains and ski racks open up opportunities for skiing in the nearby cities of Lazio or Abruzzo. You can also help ease the learning curve of driving in a new city by opting for our satellite navigation that will get you where you need to go in Rome stress free. Other features offered at this location include several additional insurance plans including theft protection, as well as the ability to add additional drivers when you rent a car in Rome.
Due to a weak public transportation infrastructure, Rome is notorious for having some of the worst traffic in the world. As such, to cut down on city center congestion the motor traffic limited zone was instated to ban motor traffic during weekday work hours of 6:00 to 18:00. To avoid the hassle of parking and the congestion of the city, head out into the beautiful Lazio countryside for a fresh authentic taste of Italy. The A90 or the Great Ringroad is the main highway which runs around the city, with the A24 and A91 taking you more directly into downtown. Drivers should be especially cautious when driving around in Rome. The Italian capital has some of the highest rates for accidents in Europe with frequent speeding and tailgating cited as two of the main sources. For more information about traffic within the city, download the all in one Triposo app to get tips about where to go, what to do, and how to best get there!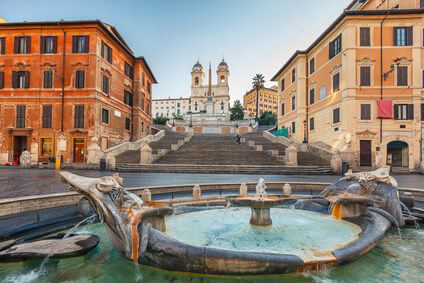 Rome has a long reputation as being a center for trade, tourism, politics, and religion. Between the famous Roman Forum, Colosseum, and the impressive Vatican City you'll be hard pressed to pack in all of these important historical sites during your visit. Having a car lets you spend more time in the museum and less time transferring between erratic bus schedules to better understand the class and luxury lifestyle of modern day Romans. Italy is also known as being one of the great food capitals of the world, giving us now classic staple dishes such as pizza, spaghetti, cannoli, and gelato. After you've finished eating, get a second wind to continue your sightseeing adventure with a piping hot espresso at one of the many cafes lining St. Peter's square. Before leaving Rome, toss a coin in the Trevi fountain to ensure a future return to the city of history, passion, and great food.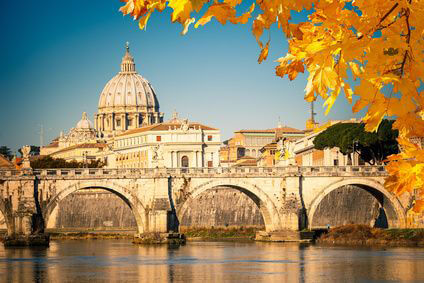 Sightseeing Destinations back to top
Villa d'Este
For a quick weekend spot of green during your visit to the land of winding cobblestones, the Villa d'Este is the perfect place to spend an afternoon in Rome. Most famously known as the Tivoli gardens, the UNESCO world heritage site is a popular spot for visitors hoping to visit the Museum of the Book and admire the many manicured lawns and fountains.
Distance to Villa d'Este:
From Rome Fiumicino International Airport: 46 miles, about 1 hour
From Rome Termini Train Station: 19 miles, about 35 minutes
From Vatican City: 25 miles, about 40 minutes
Castle San Angelo
Italian painters are also regarded as some of the most historically important artists in the world. Boticelli, Bernini, and Perugino are all well respected within their communities and you can see examples of their frescoes and sculptures around the many churches of Rome. The most famous work is perhaps is Michelangelo's series of frescoes within the Sistine Chapel at the papal residence of Castle San Angelo in the Vatican City. The chapel serves as both a tourist site as well as the location of the papal conclave where the Collage of Cardinals gather to select a new pope.
Distance to Castle San Angelo:
From Rome Fiumicino International Airport: 18 miles, about 30 minutes
From Rome Termini Train Station: 3 miles, about 15 minutes
Rome's prime location in Europe plays a key role as a financial, cultural, and business center within the EU. Some of the main industries include the technology, research, construction, and commercial sectors. Rome's economy is also heavily influenced by tourism due to its world famous art, fashion, churches, and food. The Cinecitta Studios come second only to Hollywood as one of the biggest and most influential film production companies, making Rome a rich and dynamic cultural city.
While there is no separate building designated for the sole purpose of exhibitions and trade shows, the Sheraton Roma Hotel is the best when it comes to conference space in Italy. The Hotel offers 25,000 square feet of conference rooms and halls to meet the needs of each event. Sandwiched between Fiumicino airport and Rome city center, the Sheraton Roma Hotel is the most popular choice of venue due to its green spaces, vast size, and close proximity to other transportation hubs.
Distance to Sheraton Roma Hotel and Conference Center:
From Rome Fiumicino International Airport: 14 miles, about 20 minutes
From Rome Termini Train Station: 6 miles, about 20 minutes
From Vatican City: 6 miles, about 20 minutes