SIXT Services in Portugal
Our car rental in Portugal service makes getting around the country easy. You can find a variety of car rental categories in our fleet including economy and full-size sedans, station wagons, SUVs, convertibles, minivans and passenger vans. Make your rental fit your needs by booking optional add-ons like GPS, child seats, extra protection, SIXT Connect and E-Toll Service. Whether you are planning a short trip to Portugal or a long journey, we have flexible rental periods to adjust to you. Book a one-day rental or a monthly rental and count on getting a great deal.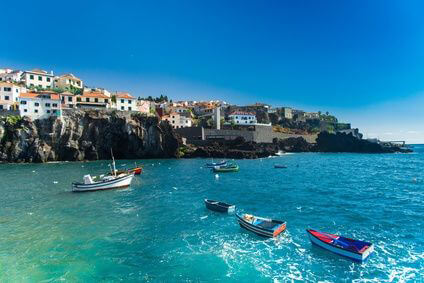 Good to Know When You're Visiting Portugal
Car rental under 25 in Portugal: In general, it is allowed to rent a car from the age of 19 in Portugal, with a license held for at least 1 year. Not all car categories are available to drivers under 25, and an underage fee applies.
Driver's license requirements: You need a valid driver's license held for at least 1 year to rent with SIXT. An identity card or passport must be presented along with the license. If the driver's license is from a country that uses another alphabet (Chinese, Japanese, Cyrillic, etc.), an international driver's license with a Portuguese translation must be presented.
One-way car rental in Portugal: You can generally book a one-way rental between our branches in mainland Portugal, depending on the tariff. One-way rentals between branches in the same city are free of charge.
Cross-border travel: It is possible to travel to other countries in Europe, although additional charges may apply. It's best to contact the station you want to rent from if you would like to take your SIXT car outside of Portugal.
Tolls: All our vehicles are equipped with an electronic toll device. If you add this as an extra when booking a car in Portugal, the toll costs will automatically be billed to your credit card without any additional charges.
Payment methods: We accept all major credit cards in Portugal, as well as debit cards linked to a credit card network like Visa or MasterCard. Maestro debit cards, prepaid cards and cash are not accepted.
Best Places to Visit in Portugal
Lisbon: The capital city of Portugal, Lisbon offers a lot to explore. Walk the narrow, steep streets of the Alfama district and spend an evening in a bar featuring fado music. Then drive to Belém where you will see the famous Belém Tower and Jerónimos Monastery. For great views over Lisbon, walk up to the São Jorge Castle. And don't forget to try an egg custard tart while in Lisbon!
Porto: Located on the northern coast of Portugal, Porto is a destination for port wine and Medieval architecture. The Ribeira district is known for its buildings dating to medieval times, and its bars. For a bit of culture, head to the Bolsa Palace or the Porto Cathedral.
Faro District: This region on the southern coast of Portugal is known for its beaches. There are several to choose from, whether you want a long stretch of beach like Praia da Rocha or one surrounded by cliffs like Praia da Marinha. Albufeira and Lagos are two of the most popular cities in this region for a beach vacation. Hiking and water sports are popular activities here, and on the far western side of this region you can even surf!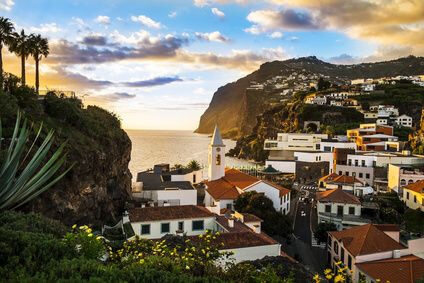 Summer 2020 in Portugal
Summer temperatures are moderate in coastal Portugal, on average in the low-80s. However, inland can be hotter. Yes, beaches are a main draw, but also consider exploring some of the hiking trails, whether on the Atlantic coast in the west or south of Portugal, or in the north in the Vinho Verde region where you can also enjoy wine! If you want to soak in some sun, head to the Algarve for some of the best beaches in Europe. Special summer celebrations include Festa de Sao Joao and the Sintra Festival in June and July.
Winter 2020 in Portugal
In winter, temperatures can be in the 50s and 60s during the daytime in Portugal, although at night it is colder. It rains more during the winter months, but you can still enjoy outdoor activities like visiting the wine regions like the Antejo or go hiking without getting too hot. There are fewer tourists visiting in winter, meaning if you go to Lisbon or the beaches in the south, you can enjoy the sights without huge crowds. If visiting in January or February, look out for Carnaval celebrated in many cities.