Rent a Car in Thailand with Sixt
Exploring a foreign country by car is fun and easy, while getting to grips with the workings of public transportation abroad may be time-consuming and quite stressful, especially when you're pressed by time or are traveling with the family. With Sixt car rental in Thailand, you can see Thailand on your own terms.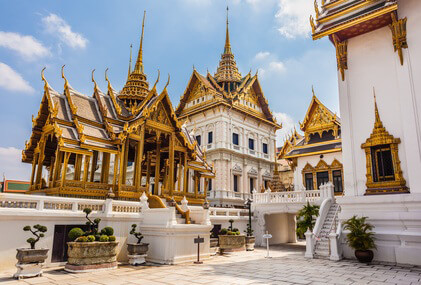 Driving Rules and Regulations in Thailand
When you use a car rental in Thailand, keep in mind that some traffic rules may differ from those in your own country. Here are some things to remember:
Driving is on the left.
Seat belts are mandatory for front-seat passengers.
The minimum driving age is 18.
The speed limit ranges from 31 to 37 mph on suburban streets and from 56 to 75 mph on highways.
If you plan to use car rental in Thailand, you will need an international driving permit, which you will be able to use for up to six months, after which you will have to obtain a local driver's license.
What to Do with a Rental Car in Thailand
Located in Southeast Asia, Thailand is a popular tourist destination that draws visitors from around the world with its clear blue beaches, great food and friendly people. Rent a car in Bangkok, the capital of Thailand, and proceed with exploring the city in the comfort of your own vehicle while visiting the city's numerous temples, royal palaces and floating markets. If you arrive at the Khon Kaen Airport, you won't miss out on fun things to do either. The area around the city has everything from wildlife preserves and parks to golf complexes, museums and historical sites. Another region where Sixt's car rental services will come in handy is Krabi, where you can relax on the Ao Nang Beach or marvel at the Tiger Cave Temple. With Sixt, visiting Thailand will be easier done than said.
For more information about renting a car in Thailand, please check out our car rental guide for Thailand.