Sixt Rent a Car in Manchester
Our Service | Traffic Information | Sixt Tip | Sightseeing Destinations | Business Destinations | Rental FAQs
Click on the right-hand tab of our branch finder to reveal a map showing the locations of our car rental in Manchester offices in relation to the city centre and airport. Return to the drop-down menus on the left-hand tab for exact addresses and opening hours of each branch. Our Manchester Airport branch offers convenient extended hours and a 24-hour return facility. Before you book your car hire in Manchester, check out our competitive rates with an online price comparison. Booking rental cars can also be done on the go with our mobile Sixt app or through our reservation number. We guarantee your chosen car hire category but cannot do so for specific models. Whether you are renting a vehicle for one hour, a weekend or a longer stay our friendly advisors are always available to assist you.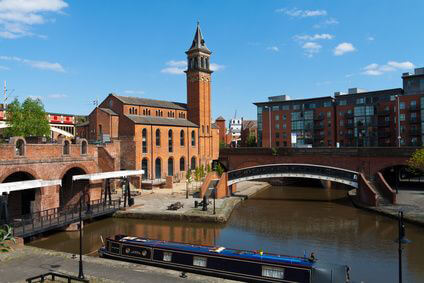 Our Manchester Airport and Piccadilly Station offices have a full range of cars and minibuses available while our other Manchester car rental branches also offer useful vans and trucks. These are just the right size if you are transporting business or exhibition materials in the city or are moving home or university lodgings. Families are well catered for with compact saloons and larger estate cars or why not choose a rugged 4x4 if you plan on heading to the countryside of the Lake District? For a little luxury our fleet of premium vehicles, which includes models from BMW, Mercedes-Benz, Audi and Porsche, also has sports cars and convertibles. Perfect for a special treat. Whatever your budget and party size we have something to suit, as well as a range of vehicles designed for different mobility needs. We also offer a range of affordableextras which add value to your driving experience. Look out for deals on unlimited mileage, insurance top-ups, insurance for under 25s and additional drivers as well as our special student offers. Explore the countryside safely with Sat Navs and winter tyres while child seats and bike racks are ideal for familyholidays.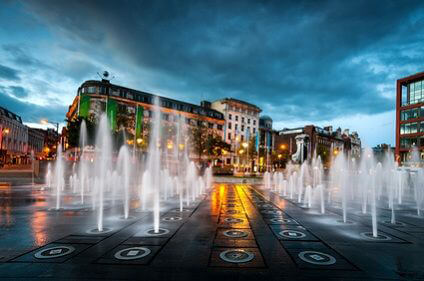 When you land at Manchester Airport, which receives both national and international flights, a free shuttle bus takes you from the arrivals hall to the car rental village where our desk is clearly signposted. Once you have collected your vehicle it is only a few minutes drive to the city centre. The other three branches in Manchester are all within easy reach of the city's bus and Metrolink networks.
Make sure to pick up a Manchester A - Z when you arrive or better still add a Sat Nav to your car hirereservation so you can navigate the busy city streets with ease, avoiding any traffic restrictions, bus lanes and one-way systems that are in place.
Pay and display car parks and metered street parking are widely available across the city centre, as well as at all major attractions and sporting venues.
Manchester is a city that easily blends historic sites, quirky areas such as Chinatown and The Village, with buzzing cultural life and, of course, its major sporting attractions. These sports grounds centre around test cricket at Old Trafford and the stadiums that are home to Manchester City and Manchester United football clubs, all of which offer visitors' tours. Castlefield is both the ancient Roman and old industrial heart of Manchester. Home to the Castlefield Canal Basin and the Museum of Science and Industry, it was the United Kingdom's first UNESCO Urban Heritage Site. Take a drive around the city to get your bearings before planning an action packed day out.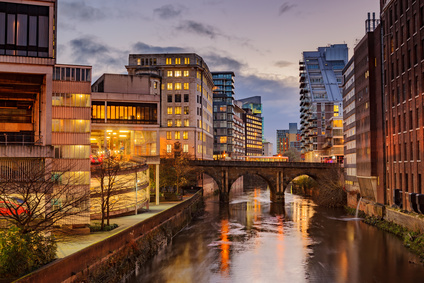 Manchesters Industrial Heritage
Manchester's prosperity was built on the back of the textile industry and the mills that powered it. It is now these mills that give a unique flavour to the city. Where else can you visit an exhibition in one mill, have lunch in another then do a spot of afternoon shopping in a converted riverside example? Look out for them spread across the city below when you take the short drive up to the popular park at Rock Rimmon.
Sightseeing Destinations back to top
Manchester is the perfect base for exploring the North of England. Take the family on a day trip to Blackpool just an hour's drive away. Here they can enjoy all the fun of the seaside, the famous summer Blackpool Illuminations that light the sky as the sun sets and scare themselves on the rides of Britain's busiest theme park, Blackpool Pleasure Beach. If you like your beaches a little quieter then head to the sandy stretches either side of the city.
Distances to Blackpool
From Manchester Airport: 57 miles, about 1 hour
From Manchester Piccadilly Train Station: 52 miles, about 1 hour
A visit to this part of the United Kingdom is not complete without taking in the stunning scenery of the Lake District. Stroll along the shores of Lake Windermere before enjoying a leisurely lunch at Ambleside, a pretty little town in the heart of the Lakes. Take to the water on the Ullswater Steamer then shop for some Kendal Mint Cake. This sweet treat was traditionally a survival staple of fell walkers and climbers.
Distances to Ambleside
From Manchester Airport: 92 miles, about 1 hour 40 minutes
From Manchester Piccadilly Train Station: 88 miles, about 1 hour 40 minutes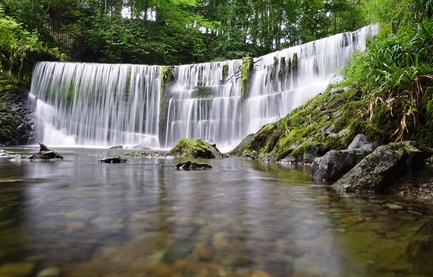 If your passion is history then head towards Wales and visit the fascinating Roman sites at Chester. Stroll around the Roman city walls and browse shops that line the narrow cobbled streets. Roman remains include the Amphitheatre and Roman Gardens, while some city centre shops and cafes have basements that reveal ancient archaeology. Chester is also home to a world-famous zoo, known for its elephant collection and unique bat cave. A fun and educational visit for the whole family.
Distances to Chester
From Manchester Airport: 33.5 miles, about 45 minutes
From Manchester Piccadilly Train Station: 41 miles, about 1 hour
Manchester grew up around its ports and textile industries. Regenerated dockside areas and textile mills now play an important part in the city's tourism sector. Manchester Airport is owned by the city and one of the biggest employers in the area with revenue from it funding local projects. Other big economic areas are media, along with science and engineering industries. The city is home to several conference and exhibition centres but the main ones are EventCity and the Manchester Central Convention Complex.
Distance to EventCity
From Manchester Airport: 9 miles, about 15 minutes
Distance to Manchester Central Convention Complex
From Manchester Airport: 8.5 miles, about 25 minutes