Sixt rent a car in Atlanta, Georgia
Our Service | Traffic Information | Sixt Tips | Sightseeing Destinations | Business Travel | FAQs
While planning your trip, you will find all important information you may need about your car rental in Atlanta on our branch menu. Click on the second tab and see exactly where are branches are on Google maps. On our branch pages you can find the addresses, phone numbers, car categories and specific details about each location. Some of our Atlanta branches offer extra services such as 24 hour vehicle returns and the chance to reserve the rental car of your choice thirty minutes prior to pick up. Make a price comparison to see just how affordable our rates on premium vehicles are and be sure to check out our regularly updated deals before booking. Whether you are in town for a quick business trip, just the weekend, or an extended stay we can help accommodate your mobility needs.  
At all of our Atlanta rental locations we have a wide selection of top quality rental vehicles that are well-maintained and regularly updated. We offer a range of options for economy cars to luxury car rentals from leading brands such as BMW and Mercedes-Benz. Whether you want a compact car or sedan for a city trip or a more sporty SUV or convertible we can cater to your budget and plans. While booking online or over the phone consider including add-ons to tailor your experience. Choose from extras such as GPS, additional driver coverage or insurance protections. We also have child seats suitable for babies, toddlers and small children so you can travel lighter and leave yours at home.  
Other Bookable Extras:
Express Toll Service
Personal Accident Protection
Extended Roadside Protection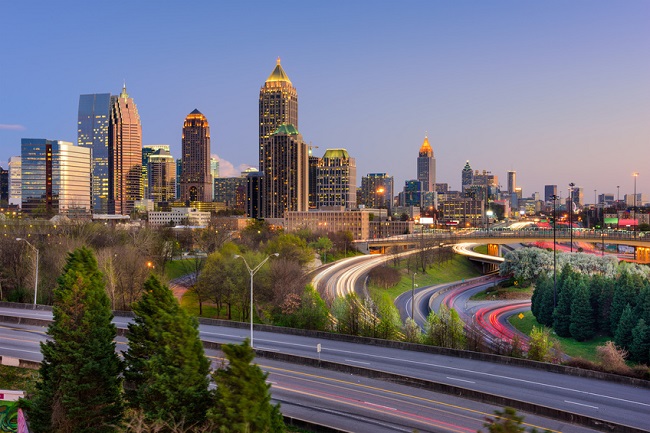 Atlanta is known for having one of the most intricate roadway systems in the United States. As the city is rather spread out, Atlanta freeways can take some time getting used to. We recommended making use of smart phone traffic apps and booking a GPS to find the best and quickest routes to your destinations. Interstate 285 is the main highway surrounding the city of Atlanta and is locally known as the Perimeter. This road can be up to 8 to 12 lanes wide and it is important to know that exit signs are numbered clockwise. One thing to keep in mind while driving in Atlanta is that often the right-hand lane on the highway is exit only lane. If you are not exiting it is best not to stay in the right lane as it can be difficult to merge back into traffic if you are planning to stay on the road.
Atlanta is a major American city that has a huge impact on commerce and finance, and is influential in the culture, arts, and entertainment industry as well. Atlanta has also played a significant role in contemporary history, as the birthplace and home of Dr. Martin Luther King, Jr. and center of the Civil Rights movement. This historic American city is famous for its friendly citizens, booming nightlife, and a constant stream of activities. It's no wonder it is one of the most visited cities in the US.
Sightseeing Destinations back to top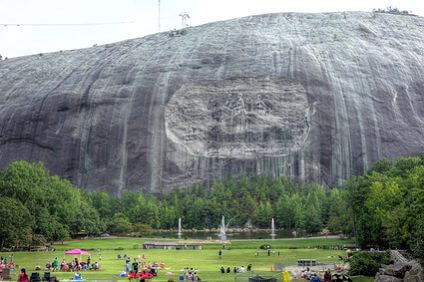 Stone Mountain Park
Stone Mountain is the largest exposed granite dome in North America and features a bas-relief sculpture that is the largest in the world. A day spent in the park can be filled with all kinds of activities. Circle the park on the scenic railroad, brave a ride to the mountain summit the Skyride on Swiss cable-car, or enjoy a riverboat cruise. You can also just spend time hiking around the beautiful natural landscape.
Distance to Stone Mountain Park
From Hartsfield-Jackson Atlanta International Airport via I-285: 28.8 miles, about 29 minutes
From Atlanta Buckhead via US-78 E: 18 miles, about 27 minutes
From Atlanta Midtown via Ponce De Leon Ave NE und US-78 E: 16.8 miles, about 27 minutes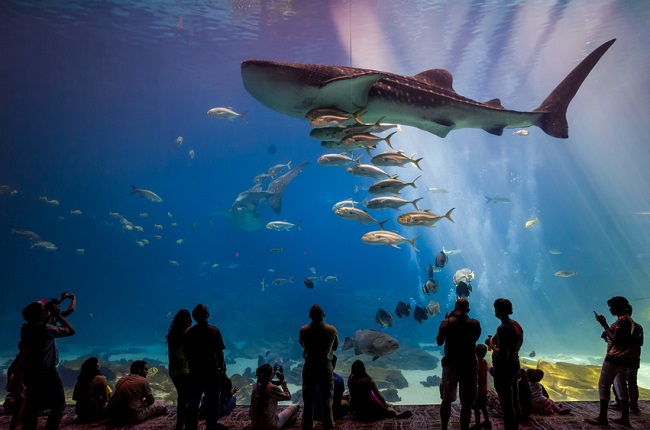 Georgia Aquarium
A leader in marine conservation and research, the Georgia Aquarium is the largest aquarium in the Western Hemisphere home to several thousand aquatic species. Besides being one of the best places to interact with marine life there are special events throughout the year perfect children from sea lion shows to interactive exhibitions that are perfect for all ages.
Distance to Georgia Aquarium
From Hartsfield-Jackson Atlanta International Airport: 12 miles, about 19 minutes
From Atlanta Buckhead via I-85 S: 8.3 miles, about 12 minutes
From Atlanta Midtown via Spring Street NW: 1.2 miles, about 6 minutes
Atlanta is known for being one of the lowest-cost places in the country for conducting business. In general, Georgia has one of the lowest average tax rates for both new and old enterprises, as well as affordable location costs. Georgia International Convention Center is the second largest convention center in the United States and can be easily reached with your rental car from both I- 85 and I-285. Besides its various halls for trade shows and exhibitions, it is also a hub for the city's film and television industry.
Distance to Georgia International Convention Center
From Hartsfield-Jackson Atlanta International Airport: 6 miles, about 14 minutes
From Atlanta Buckhead via I-85 S: 19.3 miles, about 24 minutes
From Atlanta Midtown via I-85 S: 12.3 miles, about 17 minutes
Sixt Stations in the USA
Atlanta
Atlanta Airport
Beverly Hills
Dallas
Dallas Airport
Detroit
Detroit Airport
Fort Lauderdale
Fort Lauderdale Airport
Hartford
Las Vegas
Las Vegas Airport
Los Angeles
Los Angeles Airport
Miami
Miami Airport
Minneapolis
Minneapolis Airport
Myrtle Beach
Myrtle Beach Airport
Opa Locka Airport
Orlando
Orlando Airport
Palm Beach Airport
Philadelphia
Philadelphia Airport
Phoenix
Phoenix Airport
Pompano Beach
San Francisco
San Francisco Airport
San Jose CA
San Jose CA Airport
Santa Monica
Scottsdale
Seattle
Seattle Airport
Springfield MA
Tampa
Tampa Airport
Venice Beach
Weehawken
West Haven CT
West Palm Beach
Windsor