Our Service | Traffic Information | Sixt Tips | Sightseeing Destinations | Business Travel | FAQs
Renting a car in Fort Lauderdale with Sixt
Scroll through our drop down branch menu to find out more information about each of our car rental in Fort Lauderdale locations. Details about opening hours and car categories at each branch can help you make your decision about where you want to rent a car. Click on the second tab and open a Google map overview for a better idea of where we are situated. While booking online you can do a quick price comparison of the models available for your desired rental period. Please do note, however, reservations are only guaranteed for the car category as specific models are subject to availability at each our Sixt rent a car Fort Lauderdale branches.
No matter your mobility needs our fleet can accommodate. A convertible is a great way to fully enjoy the Florida sunshine or opt for a fun sports car. If travelling with a group an SUV or minivan will ensure enough leg and luggage room for comfortable travel. We even have branches where you can rent a van or truck in Fort Lauderdale. Whether moving house or hauling cargo for commercial or personal reasons check out our reliable fleet of van and truck rentals at our Fort Lauderdale/Commercial Truck branch. You can rent a truck at our Pompano Beach and Pembroke Pines locations as well. Customizing your rental vehicle is also possible with our deals on add-ons. We offer a range of useful extras such as GPS, additional driver coverage and various insurance protections.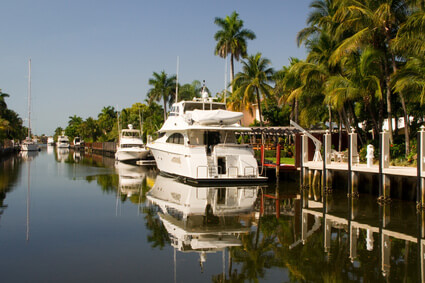 If you are arriving by air, Fort Lauderdale-Hollywood International Airport is only four miles to the south of the city. It will take you around ten minutes to get to the downtown area on the US-1. To the east of the city, Interstate 95 (I-95) provides the major north-south artery. This connects Fort Lauderdale to the centres of Miami to the south and West Palm Beach and Jacksonville to the north. West of the city, Florida's Turnpike provides the main north-south route. It runs to Homestead and the Florida Keys to the south and to the north it runs to Orlando and on to North Florida. Running east to west, the I-595/I-75 connects Fort Lauderdale with Florida's West Coast, including cities such as Fort Myers, Naples, Sarasota and Tampa.
AIn the city itself, roads are laid out in a grid. As a general rule, avenues run north-south, while streets and boulevards run east-west. There are many toll roads in the South Florida area but using these is far easier when you opt for our Express Toll Service. When you rent a car in Fort Lauderdale you will be delighted to learn that the city has been voted one of the top ten US cities for parking. The city's parking division operates a number of parking garages and metered bays, conveniently located for the major attractions.
Fort Lauderdale is sometimes known as the Venice of America, in reference to its many canals. It is one of the most diverse and cosmopolitan cities in Florida, with many European visitors and a thriving gay scene. The downtown entertainment district runs along Las Olas Boulevard from east to west. To the eastern end of the boulevard, there is around a mile of upscale restaurants and boutiques. Move across the railway lines to the west of the boulevard and you will find an area that caters to a younger crowd and is especially lively at the weekend. There are lots of cool nightclubs and casual restaurants and also the Broward Center for the Performing Arts. Wilton Manors is almost a distinct city within Fort Lauderdale. It is a popular LGBT area and has many bars, nightclubs and restaurants enjoyed by this community. The center of the area is Wilton Drive, around NE 26 Street, two miles north of the downtown area. Beaches are undoubtedly a major attraction of the city and they are easily accessed when you choose car rental in Fort Lauderdale. You will find parking just to the south of Las Olas Blvd and more beneath Las Olas Blvd Bridge.
Fort Lauderdale Beach, also known as The Strip, is one of the city's most popular destinations. You will find a wide range of shops, bars, restaurants and hotels right beside the beach. This helps to create a lively but laid-back atmosphere. Las Olas Blvd is a great place in the Downtown area to take a stroll, with lots of shops, cafes and restaurants. Old Fort Lauderdale Village & Museum gives a great look into the past of the city. Fort Lauderdale Swap Shop is a huge flea market and the ideal place to find a bargain. It also has the largest drive-in movie complex in the US, with 13 screens.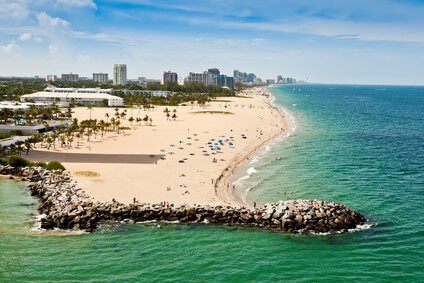 Sightseeing Destinations back to top
To the west of Fort Lauderdale, nature lovers are in for a treat. The Holey Land Wildlife Management Area takes you away from the tourist crowds of the Everglades and into a wild, unspoiled, landscape. Here you can trek, camp and hope to spot the elusive Florida panther.
Distance to Holey Land Wildlife Management Area
From Fort Lauderdale Airport: 46 miles, about 55 minutes
From Fort Lauderdale Sunrise Boulevard: 45 miles, about 50 minutes
From Pompano Beach: 50 miles, about 55 minutes
The beaches in Fort Lauderdale are lovely but when you rent a car you can travel south on the I-95 to Coral Gables to find another bathing spot. The Venetian Pool at Coral Gables is the world's largest fresh water pool and was built in the remains of a coral quarry.
Distance to Coral Gables
From Fort Lauderdale Airport: 34 miles, about 48 minutes
From Fort Lauderdale Sunrise Boulevard: 36 miles, about 52 minutes
From Pompano Beach: 45 miles, about 1 hour
With its superb beaches and booming nightlife scene, it is unsurprising that tourism is a major employer in the area but the ocean also brings lots of jobs. Yacht and boat building employs more than 100,000 people in the area and Port Everglades is one of the busiest in the US for cruise ships. The city is also a popular conference destination, with the leading venue being the Greater Ft. Lauderdale / Broward County Convention Center.
Distance to Broward Convention Center
From Fort Lauderdale Airport: 5 miles about 15 minutes
From Downtown Fort Lauderdale: 2.7 miles about 8 minutes
From Pompano Beach via I-95 S: 14 miles, about 25 minutes
From Pembroke Pines via Florida Turnpike: 19.3 miles, 30 minutes
FAQs