Our Service  |  Traffic Information  |  Sixt Tips  |  Sightseeing Destinations  | Business Travel |  FAQs  
Driving is an integral part of California city life and also affords you the luxury of designing your own itinerary. While the "City of Angels" is famous for being a leader in the entertainment industry, it is also a hub for artists, technology companies, business, and of course a great place to take a vacation. Our Los Angeles branches are spread throughout the city with two locations at airport, one directly at LAX, the other at the airport Renaissance Hotel. Other branches can be found in popular neighborhoods such as Beverly Hills, Venice Beach, and West Hollywood. Click on the second tab of our branch menu and you can see where exactly you can pick up a car rental in Los Angeles.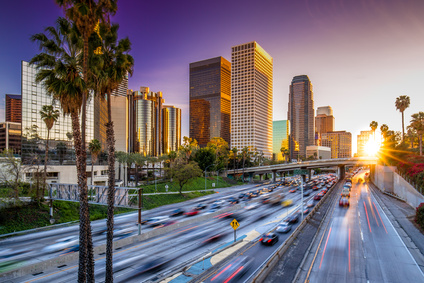 In addition to providing a comprehensive car rental services we offer affordable rates and easy online booking. A price comparison can demonstrate our attractive deals on premium rental cars. Whether you are looking for a luxury sports car or an economic compact vehicle, we have something that will suit all of your travel needs. Those with more gear or more passengers can travel comfortably in a minivan or SUV. If you are coming to LA for a fun weekend away treat yourself to a top of the line vehicle like a Mercedes-Benz or BMW. We also offer various extras to help you have an optimal driving experience.
Some of our available extras:
GPS
Extended Roadside Protection
Child seats suitable for babies, toddlers and small children
Personal accident protection and Supplemental Liability Insurance
Driving is a major part of the Los Angeles experience. The city is rather spread out so having a car rental in Los Angeles is the ideal way to get around. As you make your way to all the fabulous attractions be prepared to encounter the famous traffic of LA freeways. We recommend to include a GPS to your rental vehicle so you can make your way around using backstreets if necessary. Downloading traffic apps to your smart phone is also a great way to avoid unnecessary delays. It is also important to know that speed is monitored by red light cameras and a photo of your license plate number will be taken to fine you for speeding.
When you rent a car in Los Angeles it is a good idea to familiarize yourself with the main freeways. The famous 405, often referred to as Santa Monica Freeway, is known for its scenic views. Running through the greater Los Angeles area the 405 runs along the Pacific Coast and connects to the Ventura Freeway, also known as Route 101 or I-10. This major freeway also offers access to Culver City, the Skirball Cultural Center, Westfield Mall and many other locations. These routes do tend to suffer from congestion so another option is to drive I-5 which runs directly through Downtown LA.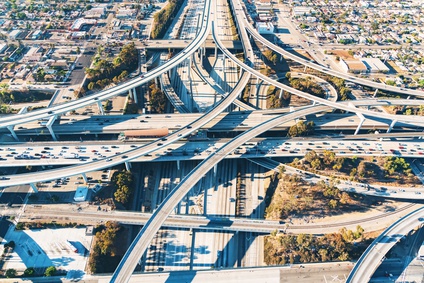 Before Los Angeles was taken by Spanish explorer Juan Rodríguez Cabrillo in 1542, California land was home to the indigenous Chumash and Tongva people. In 1781 the city was officially founded by Spanish governor Felipe de Neve and subsequently became part of Mexico. Today the city is home to people hailing from over 140 countries. LA's most significant population is of Mexican and Latin American descent, so don't be surprised at the amount of Spanish you will hear being spoken. Besides attractions relating to the film industry like the star-studded Hollywood Boulevard or Universal Studios, Los Angeles is home to an impressive selection of museums. The city actually has more art centers per capita than any other city in the world, totaling 841. Stop by the fantastic Los Angeles County Museum of Art or the Getty Center, one of the most visited museums in the country thanks to its unique design and location on the hills looking over the city.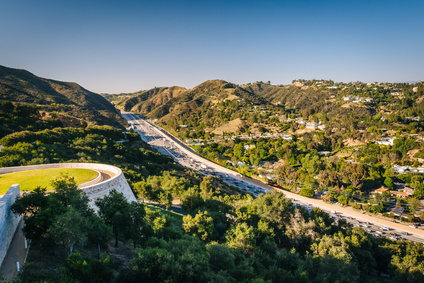 Sightseeing Destinations back to top
Part of what makes Los Angeles so great is its numerous eclectic districts and neighborhoods. Koreatown is currently one of the most exciting districts in the city offering up an array of authentic family-run restaurants and trendy bars. If you have a passion for karaoke, Koreatown is the place to be. Decide where you want to go by choosing whether you want to sing your heart out in a private booth or for a crowd.
Distance to Koreatown
From LAX: 14 miles, about 40 minutes
From Beverly Hills: 5 miles, about 17 minutes
From Santa Monica: 13.2 miles, about 20 minutes
Another LA hotspot is the hipster haven of Silver Lake. Besides its amazing shops, cafes and restaurants it is one of the rare spots in LA that are great for walking around. Park your ride and stroll Silver Lake Boulevard, or head out for a hike in the surrounding hills. Nearby in Los Feliz venture through Griffith Park, the city's largest municipal park. Often likened to NYC's Central Park, Griffith Park is in fact much larger. While there spend some time at the iconic Griffith Observatory.
Distance to Silver Lake
From LAX: 21 miles, about 33 minutes
From Beverly Hills: 8 miles, about 28 minutes
From Santa Monica via I-10 W: 18.4 miles, about 20 minutes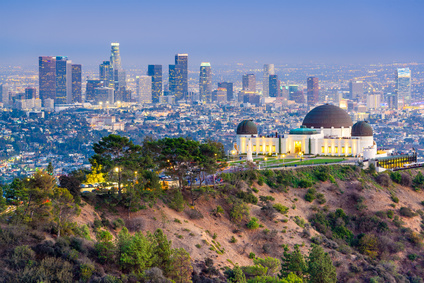 Los Angeles is the third largest economy in the world. Famous for being a hot bed of innovation and due to its diverse working population, LA is a major business hub. Los Angeles is not just a leader in the entertainment industry, but thrives as well in the fashion, Aerospace and biomedical sectors. Having your own vehicle while staying in LA will allow you to plan meetings, make deadlines and have freedom to network while on in town on business. The Wells Fargo Center and The Los Angeles Convention Center are two of the largest conference and convention centers in the city.
Distance to Wells Fargo Center
From LAX: 18 miles, about 27 minutes
From Beverly Hills:10 miles, about 23 minutes
From Santa Monica via I-10 E: 15.3 miles, about 17 minutes

Distance to the Los Angeles Convention Center

From LAX: 16 miles, about 22 minutes
From Beverly Hills:9 miles, about 18 minutes
From Santa Monica via I-10 E: 13.6 miles, about 17 minutes
FAQs
Which documents are needed to pick up a rental car?
Will I be covered by my own car insurance?
What is included in the rental charges?
Can I rent a specific car model?
Can I change my booking and do I have to pay a cancellation fee?
Can I cross state lines and/or borders with my rental car?
Can I rent the car at one place and drop it off at another station?
What is Sixt's refueling policy?
What add-ons are available and how much do they cost?
Can I rent a car with unlimited mileage?
Does Sixt deliver and/or collect rental cars?
Do I have to pay a security deposit?