Renting a car with Sixt from Los Angeles Intl. Airport
Sixt car rental from Los Angeles Intl. Airport offers a premium service with economy and luxury vehicles at affordable rates. World-class car manufacturers such as Chevrolet and Hyundai are part of our huge fleet in Los Angeles Intl. Airport. From compact city cars to passenger vans and minivans, we have a wide range of vehicle styles to suit the needs of every trip. If you rent a car for a small group or a family try our saloons with extra leg and luggage space, or if you want to drive with the top down choose a stylish convertible such as the Ford Mustang. You can tailor your vehicle with a range of optional protection options and extras such as additional drivers and GPS.
Our branch at Los Angeles Intl. Airport
At Los Angeles Intl. Airport our friendly staff will be there to assist you and we will get you on the road quickly after arrival. The airport is situated right next to the Pacific Ocean, in between Santa Monica and Redondo Beach and only 25 minutes away from downtown Los Angeles via I-105 E and I-110 N. This location is perfectly placed to get straight into Los Angeles, or venture on a longer road trip with your car rental. The famous Pacific Coast Highway is renowned for its scenery and easily accessible from the Airport in your rent a car.
Things to do in Los Angeles and beyond
Los Angeles is a sprawling city of bustling and diverse neighborhoods, perfect for exploring in a rental car. Our favorite neighborhoods in Los Angeles include Beverly Hills for its celebrity mansions, Echo Park with its proximity to downtown Los Angeles, fantastic cafes and DIY attitude and Venice Beach for its carnival atmosphere and seaside skate parks. With a rent a car it is easy to get around the city and find the perfect neighborhood for your tastes. You can easily travel from one end of the city to the other or drive out to nearby destinations like Disneyland. There are beautiful nature areas to explore with a vehicle at your disposal while in Los Angeles as well. Take a trip into the Angeles National Forest or Topanga State Park for some day hikes. L.A is based at the southern part of the Pacific Coast Highway or Highway 1 which stretches all the way north to San Francisco and beyond. In many ways the ideal car rental road trip, this scenic route along the Pacific coast takes in Big Sur, Monterrey, Santa Cruz and San Jose.
Sixt Shuttle Info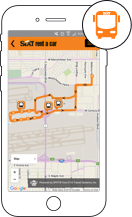 You can reach our Sixt rent a car services at the Los Angeles Airport with a courtesy shuttle bus. Once you leave the baggage claim area follow the purple signs to find our Sixt shuttles, which arrive every ten minutes and will take you directly to our branch. On the arrivals level take the exit at the baggage claim area. Please proceed to the purple signs designated for Rental Car Shuttles. Lookout for the SIXT Shuttle Bus, which runs approximately every 10 minutes to take you to our SIXT branch. You can also live track the shuttles here: http://sixt.com/LAX

Find out what our customers say about us!