Rent a car with Sixt from Orlando International Airport
Sixt car rental at Orlando Intl. Airport (MCO) has a huge fleet made up of world class car manufacturers. We have both economy and luxury rental vehicles to suit your budget and you can tailor our affordable car rental deals with our excellent optional add-ons. Our rental vehicles in Orlando include roomy sedans, stylish sports cars and convertibles along with passenger vans for larger groups. We also have station wagons and SUVs, ideal if you are traveling with a lot of baggage. Customize your car rental with our range of protection options and add-ons, at Orlando Intl. Airport these include baby and child booster seats, additional drivers, extended roadside protection and GPS guaranteed.
Orlando International Airport with a car rental from Sixt
Renting a car from Orlando Intl. Airport puts you only 12 miles from downtown Orlando and 20 miles from the famous Walt Disney World Resort. With major highways connecting you to the rest of state, a car rental from Orlando Intl. Airport is ideally placed to explore further afield. Rent a car and take the 528 to the east coast of Florida where you can easily join onto I-95 south towards Hollywood and Miami. Highway 4 runs through Orlando itself, to Tampa in the southwest and Daytona Beach to the northeast. From Orlando Intl. Airport roads are well signposted, including the routes to the major amusement parks.
Things to do in Orlando with Sixt
Orlando is known for its huge number of water parks and theme parks including Epcot, The Magic Kingdom and Walt Disney World, all mostly located to the south of the city. Along with amusement parks Orlando also has excellent opportunities for kayaking, fantastic spas, landscaped parks such as the Harry P. Leu Gardens and over 150 golf courses nearby. For arts lovers in downtown Orlando we highly recommend the CityArts Factory which combines 6 galleries into one collective featuring local and international artists. Also in downtown you have the wonderful Lake Eola Park that offers walking, boat rides and views of the Orlando skyline. Also be sure to check out the outdoor street parties in the Milk District, the natural beauty of the Garden District with its focus on sustainability and the restaurants in up and coming Ivanhoe Village.
Rent a Car at the Orlando International Airport
Our car rental services are located off site from the Orlando International Airport (MCO), easily reachable from the major roadways and with a courtesy shuttle from the airport. From the Orlando International Airport terminals make your way to the Level 1 Ground Transportation to find our shuttle. Effective June 1, 2015, minor changes have be made to the Commercial Lane space assignments affecting the off-airport parking and rent-a-car loading locations. All off-airport rent-a-car loading spaces will be located in the first half of the Lane (A and B, 11 -- 13).
Sixt Shuttle Info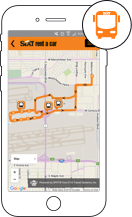 Upon Arrival to MCO, please make your way to Level 1 for our shuttle service pickup. If arriving in Terminal A, our pickup locations are bus stops A11-A13. If arriving in Terminal B, our pickup locations are bus stops B11-B13. Our Sixt Orlando branch is located approximately 5 min bus ride from the Airport. If you cannot find our Shuttle, please use the courtesy phone located in Baggage Claim and Ground Transportation and dial extension 495 for courtesy pick up.You can also live track the shuttles here: http://sixt.com/MCO