Sixt rent a car in San Francisco, California
Our Service | Traffic Information | Sixt Tips | Sightseeing Destinations | Business Travel | FAQs
On the branch menu you will find a second tab, which includes lots of helpful information about our three San Francisco branches. This includes contact information, branch addresses and opening hours. Here you can choose from a selection of quality rental cars including compact models, sedans, sports cars, convertibles and 4x4 vehicles. You can book your chosen model using our useful iPhone app and select extras like additional insurance, GPS or child seats as required. Please remember that while we can guarantee the car category, we cannot guarantee the availability of a specific model at any of our branches.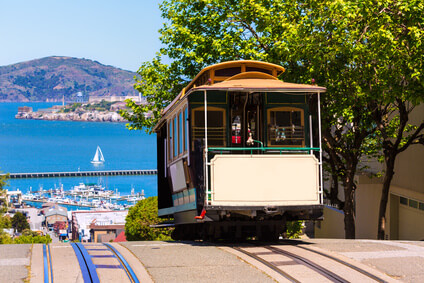 Our first-class service is complemented by a quality fleet of prestige vehicles. If visiting in summer, you might want to select a convertible, while climate control will keep you warm while driving in the famous San Francisco winter fog. SUVs and minivans can accommodate larger groups and are perfect for those exploring the beautiful surroundings.
In addition to choosing your perfect vehicle from our fleet, you can also tailor your reservation with a selection of additional options when you book online. It's also simple to quickly do a price comparison between available models to ensure a great deal. Save time and bother with our express toll service and ease your journey with a GPS. We also have add-ons such as child seats suitable for babies, toddlers and small children, additional driver and insurance coverage.
Arriving at San Francisco International Airport it will take you around 28 minutes to travel the 15 miles to Fisherman's Wharf using the most direct route, the US-101. This will extend to 45 minutes during morning and evening rush hours. An alternative during busy times is to use the I-280, which is 20 miles and around 35 minutes in good traffic. Many of the bridges in the San Francisco Bay area are accessed by tolls and some of these, including the Golden Gate, require automatic payment. Using our convenient express toll service helps you navigate the system.
From our Fisherman's Wharf branch you can take the US-101 across the famous Golden Gate Bridge to explore the famous and ancient redwood trees. This will take around 40 minutes to cover the 15 miles, but perhaps two hours or more by public transport. For the more adventurous, a road trip south on the I-5 to Los Angeles will take around six hours.
There are a number of parking options in San Francisco. On-street parking is perhaps the most affordable but it can be difficult to find a space when you rent a car in San Francisco and are unfamiliar with the city. This is especially true in the busy tourist areas around the city centre. An alternative is to use one of the many private parking garages, which may be more expensive but will perhaps save time on a busy holiday weekend, allowing you more time to see the sights. Your hotel may also have a parking lot available at a reasonable price. Some restaurants offer valet parking.
San Francisco has many attractions and you will find yourself spoiled for choice. Alcatraz prison is a familiar sight in the bay and frequent boats will let you visit the island. In the city centre, Coit Tower dominates the skyline and provides great views. Chinatown offers a fabulous choice of dining options and a really lively atmosphere. Fisherman's Wharf has lots of great shopping at Pier 39, loads of restaurants and a view of the famous sea lions. Leaving your rental vehicle for a spell, you can take a ride on the city's famous cable cars and visit the cable car museum. Union Square is the shopping centre, while the Golden Gate Park provides a welcome break from the city crowds, with woods, lakes and trails and a number of museums.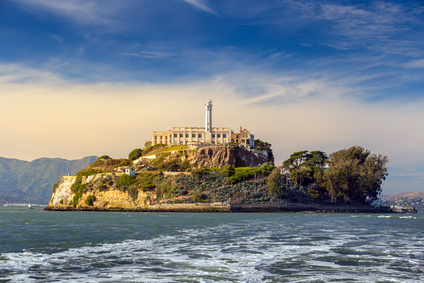 San Francisco is one of the most densely populated cities in the US, which contributes to a vibrant, buzzing atmosphere. More than seven million people live in the Bay Area metropolitan area. The city perches on the tip of the San Francisco Peninsula and is surrounded on three sides by water. The Pacific Ocean lies to the west with the San Francisco Bay lapping the eastern shores and the Golden Gate channel to the north. In addition to the many tourist attractions, the city boasts a fascinating mix of modern and Victorian architecture and is famous for its steep streets, such as Lombard Street, claimed to be 'the crookedest street in the world'. San Francisco is also known for its diversity, with a cosmopolitan population of American, Asian and Hispanic communities. There is also an active LGBT (lesbian, gay, bisexual and transgender community).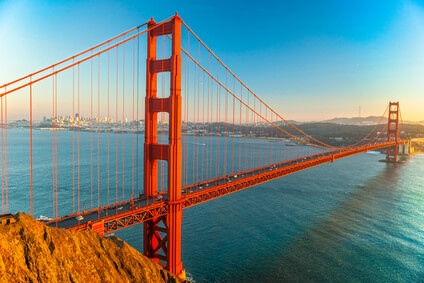 Sightseeing Destinations back to top
San Francisco has many sightseeing destinations in addition to the tourist attractions mentioned above. Many of these are far more accessible when you rent a car. For example, the famous wine country of California lies just outside of the city. There are some 400 wineries in the area and opting for car rental means you can easily visit the best-known vineyards in both the Sonoma and Napa valleys. The Jarvis Winery in Napa has great wines and has its cellar built into a huge doughnut-shaped cave. Discovering gems like this can turn car rental in San Francisco into a true adventure.
Distance to Napa
From Fisherman's Wharf: 50 miles, about 58 minutes
From San Francisco Airport (SFO): 60 miles, about 1 hour 5 minutes
San Francisco is also a great destination for sports fans, with a number of franchises in the Bay Area. These are not always easily accessible by public transport but most of the stadiums have plenty of parking and are more easily reached when you choose car rental in San Francisco. The San Francisco 49ers are the local American football team. Even if there is not a game on, they do great stadium tours at Levi's Stadium.
Distance to Levi's Stadium
From Fisherman's Wharf:44 miles, about 60 minutes
From San Francisco Airport (SFO): 29 miles, about 35 minutes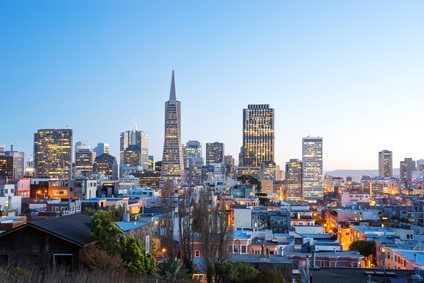 San Francisco and the surrounding Bay Area is also home to a number of major industries. Aside from tourism and hospitality, the largest employer is the information and communication technologies sector. Many of these companies are headquartered in the famous Silicon Valley, with Palo Alto at its centre. If you are visiting for a convention or exhibition, the city's largest convention centre is the Moscone Center.
Distance to Palo Alto
From Fisherman's Wharf: 35 miles, about 45 minutes
From San Francisco Airport (SFO): 20 miles, about 30 minutes
Sixt Stations in the USA
Atlanta
Atlanta Airport
Beverly Hills
Dallas
Dallas Airport
Detroit
Detroit Airport
Fort Lauderdale
Fort Lauderdale Airport
Hartford
Las Vegas
Las Vegas Airport
Los Angeles
Los Angeles Airport
Miami
Miami Airport
Minneapolis
Minneapolis Airport
Myrtle Beach
Myrtle Beach Airport
Opa Locka Airport
Orlando
Orlando Airport
Palm Beach Airport
Philadelphia
Philadelphia Airport
Phoenix
Phoenix Airport
Pompano Beach
San Francisco
San Francisco Airport
San Jose CA
San Jose CA Airport
Santa Monica
Scottsdale
Seattle
Seattle Airport
Springfield MA
Tampa
Tampa Airport
Venice Beach
Weehawken
West Haven CT
West Palm Beach
Windsor