Sixt rent a car in Seattle, Washington
Our Service | Traffic Information | Sixt Tips | Sightseeing Destinations | Business Travel | FAQs  
The American Pacific Northwest is known for being one of the most beautiful areas in the United States. The region is home to stunning natural landscapes and eclectic urban centers. Plan ahead and book a rent a car in Seattle easily online. To figure out which Sixt location is best for your trip click on the second tab to see all our locations on Google maps. To find out specific branch information, like opening hours and addresses, use the drop down menu. When you make your reservation in advance you have a chance to getter an even better deal on our already affordable premium vehicles. Use our booking page to make a price comparison of our available rental vehicle models and find the right car or SUV for your budget. We also offer a variety of different rental arrangements for maximum flexibility. We can accommodate your plans no matter if you are renting a car for a day, a week, a month or longer.  
We offer a diverse selection of rental cars at each one of our Seattle car rental locations. There are fast and fun sports cars and convertibles, which are a perfect way to make a weekend getaway even more special. A selection of compact cars, sedans, and SUVs from leading brands such as BMW and Mercedes-Benz are also featured in our up-to-date fleet. To tailor your rental to your needs you can tack on any combination of extras. Add-ons like a GPS, additional driver or insurance coverage can help enhance the drive. Plus we have child seats suitable for babies to small children so you can have the conveniently leave yours at home. Here are just some of our available services.  
Personal accident protection
Sat Radio SiriusXM
Extended Roadside Protection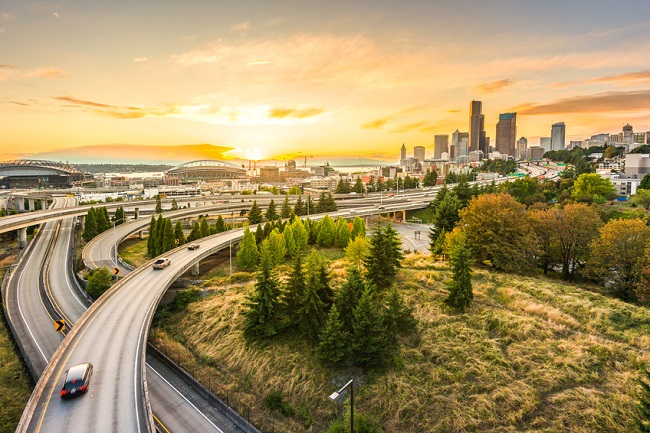 Overall, Seattle is an easy city to make your way around with a vehicle. It doesn't take too long to reach your destination from anywhere in the city and both drivers and pedestrians in Seattle are known for being polite and careful. When arriving at our Seattle airport location you can take the Interstate 5 into downtown. The I-5 is one of the most important roadways in the area as it runs through popular downtown districts and can take you to sightseeing destinations like Mount Rainier National Park. While driving downtown be aware that many streets are one-way so making use of your booked GPS or smartphone can help you to navigate better. If you are planning any longer trips while visiting Seattle be sure to check the weather conditions before you go as the region can get quite rainy and it is best to be prepared for showers.
Seattle is the largest and one of the most visited cities in the Pacific Northwest region. It is also one of the fastest growing urban areas in the country home to a vibrant music, cultural and culinary scenes. You can visit amazing museums like the Experience Music Project, the Olympic Sculpture Park, and the Seattle Art Museum which has a remarkable collection of works from the Native American communities of the Northwest Coast. Or take advantage of Seattle's geographical location between Puget Sound and Lake Washington and get out on the water. Rent a paddle board or kayak and have the chance to experience amazing views as you see the city from a new perspective. Of course you should also check out iconic Seattle spots like Pike Place Market and the Space Needle.
Sightseeing Destinations back to top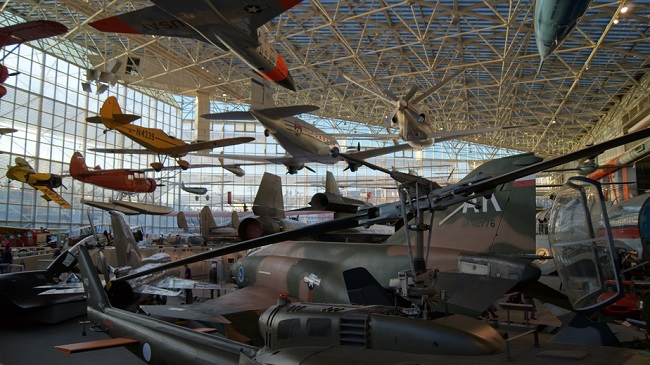 Museum of Flight
Just south of the city you can take a trip to the largest independently owned air and space museum in the world. Besides the over 175 aircraft and spacecraft it offers special experiences and hosts changing exhibitions. A real treat for anyone interested in the history of aviation, it also appeals to just about everyone with its impressive collections and interactive exhibits like the Challenger Learning Center which recreates a NASA mission experience!
Distances to The Museum of Flight
From Seattle-Tacoma International Airport: 7 miles, about 12 minutes
From Downtown/Pike Place: 9 miles, about 19 minutes
From Seattle Boeing Field/Clay Lacy: 2 miles, about 5 minutes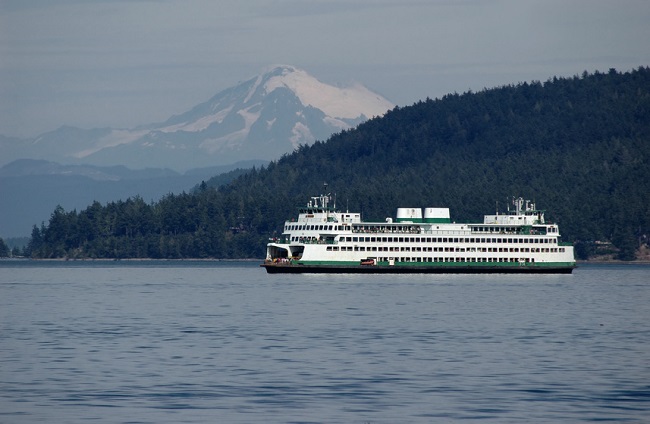 Vashon Island
When you have made your way around Seattle hot spots hop in your rental car and head out to the islands. You can take your car rental in Seattle on a ferry and head over to Vashon Island. In just about twenty minutes you can get a change of scenery and switch up the pace as you have an leisurely time exploring the island. Enjoy the landscape, hit up the sandy beach of KVI, and stop by the Point Robinson Lighthouse. Seattle ferries will also take you to the various other islands such as Bainbridge or the San Juan Islands where you can go whale watching or hiking.
Distances to to Vashon Island
From Seattle-Tacoma International Airport: 20 miles, 1 hour and 16 minutes
From Downtown/Pike Place: 19 miles, about 1 hour and 15 minutes
From Seattle Boeing Field/Clay Lacy: 21 miles, about 1 hour and 14 minutes
Seattle is known for being the birthplace of grunge rock and rock and roll icons like Kurt Cobain and Jimi Hendrix. While those days are not forgotten, the city has cleaned up a bit and is now considered to be one of the most vibrant tech hubs in the US. Today Seattle is home to some of the world's biggest tech giants including Microsoft, Amazon and Google. Thus, the city enjoys an exciting, energetic vibe with lots of tech meetups and networking events organized by popular platforms like GeekWire. The main conference and convention centers are Bell Harbor International Conference Center with its excellent waterfront location and the premier Washington State Convention Center.
Distances to to Bell Harbor International Conference Center
From Seattle-Tacoma International Airport: 14 miles, about 23 minutes
From Downtown/Pikes Place: 0.9 miles, about 7 minutes
From Seattle Boeing Field/Clay Lacy: 14.9 miles, about 19 minutes
Distance Washington State Convention Center
From Seattle-Tacoma International Airport: 14.9 miles, about 18 minutes
From Downtown/Pike Place: 0.8 miles, about 7 minutes
From Seattle Boeing Field/Clay Lacy: 6.3 miles, about 10 minutes
Sixt Stations in the USA
Atlanta
Atlanta Airport
Beverly Hills
Dallas
Dallas Airport
Detroit
Detroit Airport
Fort Lauderdale
Fort Lauderdale Airport
Hartford
Las Vegas
Las Vegas Airport
Los Angeles
Los Angeles Airport
Miami
Miami Airport
Minneapolis
Minneapolis Airport
Myrtle Beach
Myrtle Beach Airport
Opa Locka Airport
Orlando
Orlando Airport
Palm Beach Airport
Philadelphia
Philadelphia Airport
Phoenix
Phoenix Airport
Pompano Beach
San Francisco
San Francisco Airport
San Jose CA
San Jose CA Airport
Santa Monica
Scottsdale
Seattle
Seattle Airport
Springfield MA
Tampa
Tampa Airport
Venice Beach
Weehawken
West Haven CT
West Palm Beach
Windsor