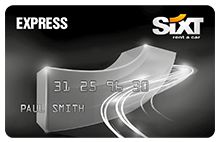 Skip the queues and rental formalities
Rent a car simply and quickly - your personal details are already stored on the card
For your rental with Sixt*, collect valuable miles or bonus points worldwide with our airline and hotel partners
All of the advantages of the Sixt Express Card
Preferred Mobility: Forgot to book your rental car? No problem. Sixt prioritizes your reservation when notified up to 48 hours prior to the start of your rental.
Up to a 10%* discount on Sixt rent a car or Sixt rent a truck and up to 20% off on Sixt limousine service.