Sixt Rent a Car in Frankfurt am Main, Germany
Our Service | Traffic Information | Sixt Tips | Sightseeing Destinations | Business Travel | FAQs
See exactly where you can arrange your car rental in Frankfurt either by scrolling through our drop down branch menu or click on the second tab for an overview of our locations on Google maps. As we aim to give you the most seamless experience most of our branches allow you to return your rental car around the clock. Whether flying in or arriving by train you can easily find the best place for you to pick up your rental vehicle, including several downtown locations. You can book ahead online or over the phone, but please be aware reservations are only guaranteed for the car category as specific models are subject to availability at each Frankfurt car rental branch.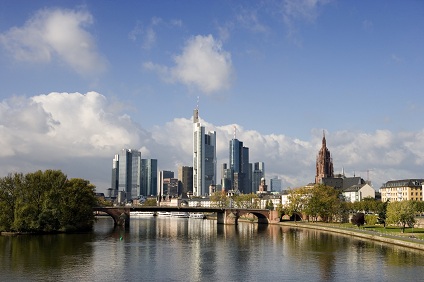 We offer a comprehensive fleet of vehicles at each of our Frankfurt rental car locations that can cater to a wide range of mobility needs. Honoring Germany's love and talent for manufacturing automobiles, we offer an array of top quality, leading brand models from manufacturers such as BMW and Mercedes-Benz. From luxury sedans and sports cars, compact cars and convertibles to SUVs and larger vans and trucks you can find what you require to match your budget and plans. You can tailor your experience with our deals on add-ons as well. Besides additional driver and insurance coverage we have a number of useful extras that can help you have an optimal drive
Bookable Extras
Child seats for babies, toddlers and small children
Roadside Protection
Tire- and Windscreen Coverage
Winter equipment such as ski racks and snow chains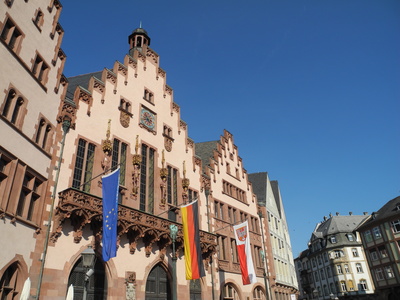 A hub for the Autobahn, you have plenty of access to move in and around Frankfurt. The Autobahn 5, or A5, is the main stretch of roadway that runs through Frankfurt while the main commuter route, the A661 starts in the south and runs through the east part of the city before ending in the north. Those heading to the Messe can use the A66 for a quick connection. A ring is formed around the inner city districts by the A5 in the west, the A3 in the south and the A661 in the north-east. This ring is a designated low emission zone but you don't have to worry as your Sixt car will be outfitted with the necessary sticker. While touring around be aware that parking in the city center is rather difficult and it is best to make use of the underground parking garages if planning to spend the day downtown.
Considered one of the top global cities, Frankfurt is not only a financial capital but has a lot of on offer regarding restaurants, culture, and history. The city has many events and festivals throughout the year, so be sure to check what's on before you arrive. From Nacht der Museen, when all the city's museums stay open until two and there are special concerts and performances, to the unique Wolkenkratzer Festival, which celebrates the city's skyscrapers and features public tours among other exciting events. In addition to visiting the many museums and galleries, many people make a point to visit the Goethe House, former home to Frankfurt's most famous German writer Johann Wolfgang von Goethe.
Another benefit to having a car rental in Frankfurt is that it is an excellent way to experience the Romantische Straße, or Romantic road, that runs 220 miles from Würzburg and Füssen. Many people start off in Frankfurt and make their way to Munich, stopping along the way to see Black Forest. The Romantic road is one of the best ways to experience quintessential German landscapes, from small villages to historic castles.
Sightseeing Destinations back to top
Bad Homburg
Just North of Frankfurt is one of Germany's great natural settings, Bad Homburg vor der Höhe, or Bad Homburg. This city is known for its internationally famous spa and wellness center, which developed in the mid-19th century. Once the summer residence of Kaiser Wilhelm II of the German Empire, Bad Homburg is still fit for royalty. Spend a day or even the night soaking up the healing baths and serene surroundings, adding a bit of luxury to your trip.
Distances to Bad Homburg
From Frankfurt am Main Airport : 19 miles, about 30 minutes
From Frankfurt am Main Hauptbahnhof : 14 miles, about 23 minutes
From Main City Center : 11 miles, about 24 minutes
From Frankfurt am Main Messe : 14 miles, about 25 minutes
Städtische Galerie Liebieghaus
If you are planning on spending most of your time in the city, there are plenty of museums, such as the center for contemporary art, Museum für Moderne Kunst and the natural history museum, Naturmuseum Senckenberg. Take a walk through the city's Zoological Garden, a paradise in the middle of an urban center. We recommend also spending the day at Liebieghaus, a regal 19th-century villa with an impressive sculpture museum known as the Städtische Galerie Liebieghaus. The sculptures on view here range from ancient Egyptian to Renaissance pieces.
Distance to Galerie Liebieghaus
From Frankfurt am Main Airport : 11 miles, about 30 minutes
From Frankfurt am Main Hauptbahnhof: 2 miles, about 10 minutes
From Main City Center: 3 miles, about 18 minutes
From Frankfurt am Main Messe: 14 miles, about 26 minutes
Frankfurt is one of the top cities in the world for business and commerce and is continental Europe's largest financial center. It is home to the European Central Bank, the Deutsche Bundesbank, and the Frankfurt Stock Exchange as well as several other large financial institutions. The city is a major hub for other businesses as well and its surrounds also feature many major headquarters of both national and international corporations. Frankfurt is well-known for its Frankfurt Trade Fair, or Messe Frankfurt, one of the world's largest exhibition sites in the world. The Messe hosts the Frankfurt Motor Show, the largest auto show in the world and the famous Frankfurt Book Fair, also the world's largest.
Distance to Messe Frankfurt
From Frankfurt am Main Airport : 7.2 miles, about 9 minutes
From Frankfurt am Main Hauptbahnhof: 1.2 miles, about 7 minutes
From Main City Center: 4 miles, about 12 minutes