Winter equipment such as snow chains and ski racks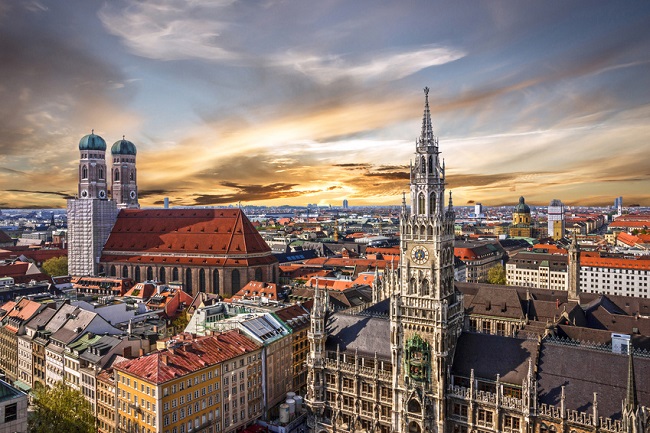 Driving in Munich is generally low key and easy, as the main roadways are clearly marked and safe. In 2008, the city of Munich established a "low emission zone", thus all of our vehicles provide the necessary sticker to prove that they meet emission standards. There are several main roads that lead to Munich. The Autobahn 8, A8, runs from Stuttgart-Munich and the A9 between Nuernberg and Munich, which is also considered to be one of the busier roads in the area. To avoid congestion at rush hour, there are smaller roadways that are known as B service roads that can be taken. When driving near or around the urban center there are several parking garages available, the biggest one located at the Munich Hauptbahnhof.
Munich is famous for Oktoberfest, an annual event that attracts over 6 million people from around the world. With a car rental in Munich, you can enjoy the various events that take place during the two weeks of Germany's largest folk festival. While Oktoberfest is undoubtedly one of Munich's biggest attractions, there is plenty to see and do throughout the year.
Depending on the time of year you arrive in Munich there are various ways to experience the city. In Autumn, the Open Art festival takes place, allowing visitors to experience the city's impressive collection of contemporary galleries, 65 of them to be exact. The weekend is filled with exhibitions and parties, bringing together locals and tourists. In Spring, Die Lange Nacht der Musik, (Long Night of Music) is held, boasting around 400 concerts taking place in bars, restaurants, and even churches. Stay up to date on annual events, from the Christmas Markets and outdoor festivals that can be easily reached when you rent a car.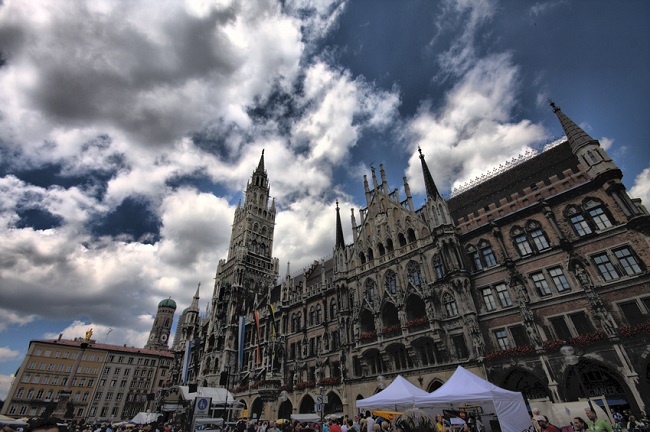 Sightseeing Destinations back to top
Linderhof Palace
When you rent a car in Munich you have the opportunity to explore Bavaria, taking small trips to surrounding areas. Schloss Linderhof, or the Linderhof Palace, is a remaining symbol of German royalty, as it was a residence of King Ludwig II. Inspired by the great Versailles, Schloss Linderhof is situated in a large and impressive garden that drew reference from the Italian Renaissance gardens. Inside the palace, there are many ornate details, such as an ivory chandelier and a carpet made from Ostrich feathers. Linderhof is also home to the Hall of Mirrors, creating the feeling that you are walking through a never-ending pathway.
Distance to Linderhof Palace
From Munich Airport: 66 miles, about 1 hour and 36 minutes
From Munich Ostbahnhof: 48 miles, about 1 hour and 15 minutes
From Munich/Hotel Park Hilton: 56 miles, about 1 hour and 22 minutes
From Munich Marienplatz: 59 miles, about 1 hour and 14 minutes
BMW Museum
Of course, you can't visit Germany and not pay homage to their historical contribution to the automobile industry. Located near Munich's Olympiapark, which hosted the Olympics in 1972, BMW Welt, is perfect for car enthusiasts and those interested in contemporary German history. Various exhibitions and events are hosted at the BMW Museum, such as the Night of the White Gloves where visitors are permitted to touch the vehicles, with the gloves on of course! There are both permanent and temporary exhibitions, from BMW Art Cars to Rolls-Royce Motor Cars, so there's something exciting for everyone.
Distance to the BMW Museum
From Munich Airport: 15 miles, about 28 minutes
From Munich Ostbahnhof: 4 miles, about 16 minutes/li>
From Munich/Hotel Park Hilton: 3 miles, about 10 minutes
From Munich Marienplatz: 4 miles, about 20 minutes
Like many major German cities, Munich is considered to be a center for business in commerce in Europe. Munich also holds the honor of being of the main high-tech industries in the EU, as well as a booming financial sector. As a result, there are many trade fairs that happen on an annual basis, organized by Messe München. Every year there are around 40 fairs, catering to consumer and capital goods as well as new technologies.
Distance to Messe Munich
From Munich Airport: 15 miles, about 28 minutes
From Munich Ostbahnhof: 3 miles, about 13 minutes/li>
From Munich/Hotel Park Hilton: 3 miles, about 12 minutes
From Munich Marienplatz: 4 miles, about 22 minutes