Sixt rent a car in Miami, Florida
Our Service | Traffic Information | Sixt Tip | Sightseeing Destinations | Business Destinations | Rental FAQs
Our drop down branch menu gives you the chance to find out important information about our services at each of our car rental in Miami locations. See about the opening hours, addresses and which branches provide the kind of rental cars you need. If you click on the second tab of the menu you can get view all our locations on Google maps. After you select which branch is best the booking page will allow you to do a price comparison of the models on offer for your desired rental period. Please note however, reservations are only guaranteed for the selected car category as specific vehicles are subject to availability at each of our Sixt rent a car Miami branches.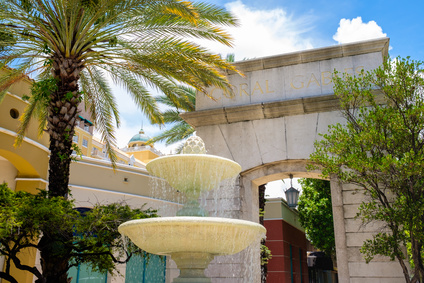 We want you to enjoy the ideal car rental in Miami and aim to do so by offering top quality vehicles and comprehensive services. Our fleet features a wide variety of leading brand vehicles that can match just about any budget or plans. Compact cars and sedans are great for city trips while an SUV or minivan can give you more leg and luggage room. Our fun sports cars and convertibles make sure you experience Miami in style. we offer a range of options to make sure you do with our range of helpful extras. We even have branches where you can rent a van or truck in Miami.
No matter whichever rent a car you choose you can tailor it to your mobility needs with our deals on add-ons. Include a GPS to stay on course or an additional driver to take turns at the wheel. We have insurance protections to ensure you drive relaxed and reassured and child seats suitable for small children and babies.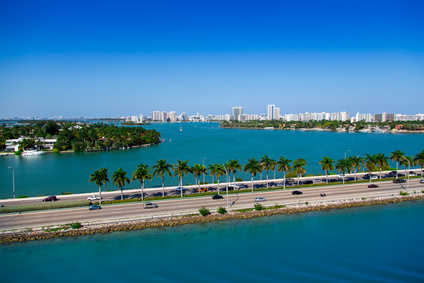 Miami's roads are laid out in a grid pattern and the city streets are arranged in four quadrants: Northwest, Northeast, Southwest and Southeast. The North and South quadrants are divided by Flagler Street, while East and West quadrants are divided by Miami Avenue. It's useful to know that Courts, Roads, and Avenues run north to south. If the road is named a street, it runs east to west. Parking in Miami is relatively plentiful and affordable. The largest provider is the Miami Parking Authority which manages more than 31,000 parking bays. They have 86 parking lots, 11 garages and more than 9,000 metered on-street spaces.
Miami is served by three main highways. I-95 runs north to south along the Atlantic coast and ends in Miami. I-75 is the main route from the Midwestern states and connects with through Atlanta and Tampa before arriving in Miami. Florida's Turnpike is a toll road, which is a good route to Orlando and the famous theme parks of that area. The main route south from Miami is US-1, which extends along the Florida Keys as far as Key West.
With nearly 80 surface and multistorey car parks in Miami along with metered street parking you should always be able to find a space near your destination. If you prefer, most parking can be paid for by smartphone.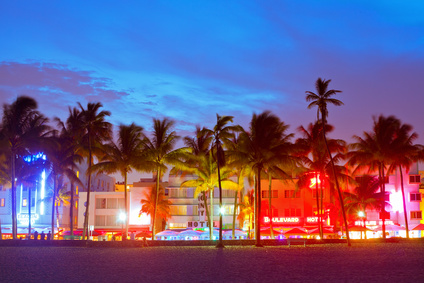 Miami is a vibrant and diverse city of great music, exciting food and stunning natural landscapes. The influx of refugees from Cuba and immigration from all across the Caribbean, Central and Latin America has created a fascinating and cosmopolitan city with a unique identity. That mixture of cultures is responsible for some of the most exciting nightlife and innovative cuisine anywhere in the US. It is located on the southeast of the Florida Peninsula, sheltered from the Atlantic Ocean by Miami Beach and Biscayne Bay. The city's beaches are a highlight and outside the city is the famous Everglades National Park, renowned for its unique wildlife and ecosystem. When you choose to rent a car in Miami many more attractions open up to you.
Downtown is the commercial, cultural and financial centre of the city and boasts many major museums, parks, banks, corporate HQs, government offices, shops and some of the oldest buildings in the city. To the north of Midtown you will find Overtown, the Upper Eastside and the vibrant immigrant community of Little Haiti. This exciting quarter of Miami also includes the creative and hip Design District and the beautiful MiMo district of modern architecture. To the west and south of the city you will find some of Miami's most famous attractions, from the Cuban culture in Little Havana to the tropical vegetation and historic area of Coconut Grove.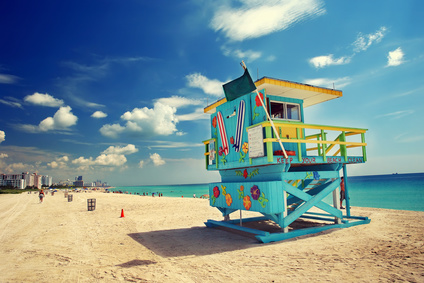 Sightseeing Destinations back to top
If you need a break from the city, the Everglades National Park is a great destination and easily reached by car. You can walk along boardwalk trails, go on a boat trip to see the alligators, fish, camp, go canoeing or try bird watching. It's ideal both as a day trip destination or weekend break.
Distance to Everglades National Park
From Miami Downtown: 38 miles, about 47 minutes
From Miami Beach: 43 miles, about 58 minutes
From Miami International Airport: 35 miles, about 43 minutes
Drive north on the I-95 from Miami and you will find Boca Raton. This small city is renowned for its Mediterranean architecture and is becoming more popular with younger visitors. In addition to the beautiful beaches and fine golf courses, it has a fascinating downtown area with more than 75 restaurants and upscale shopping.
Distance to to Boca Raton
From Miami Downtown: 47 miles, about 50 minutes
From Miami Beach: 48 miles, about 59 minutes
From Miami International Airport: 49 miles, about 55 minutes
Tourism has long been the major industry in Miami but international trade is increasingly important. Many companies choose Miami because of its proximity to the markets of the Caribbean, Central and South America. This is reflected in the $8 billion contributed to Miami's economy by the Port of Miami. The city's attractions also make it a popular choice for conventions and conferences, with the major venue being the Miami Beach Convention Center.
Distance to MBCC
From Miami Downtown: 9 miles, about 15 minutes
From Miami Beach: 1 miles, about 4 minutes
From Miami International Airport: 12 miles, about 20 minutes
Sixt Stations in the USA
Atlanta
Atlanta Airport
Beverly Hills
Dallas
Dallas Airport
Detroit
Detroit Airport
Fort Lauderdale
Fort Lauderdale Airport
Hartford
Las Vegas
Las Vegas Airport
Los Angeles
Los Angeles Airport
Miami
Miami Airport
Minneapolis
Minneapolis Airport
Myrtle Beach
Myrtle Beach Airport
Opa Locka Airport
Orlando
Orlando Airport
Palm Beach Airport
Philadelphia
Philadelphia Airport
Phoenix
Phoenix Airport
Pompano Beach
San Francisco
San Francisco Airport
San Jose CA
San Jose CA Airport
Santa Monica
Scottsdale
Seattle
Seattle Airport
Springfield MA
Tampa
Tampa Airport
Venice Beach
Weehawken
West Haven CT
West Palm Beach
Windsor